So You're Interested in Adding Solar to Your RV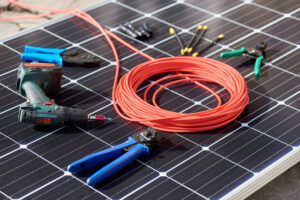 That's fantastic! RV solar solutions come in all shapes and sizes.  You can buy a solar system as a kit or buy individual components on an a la carte basis.  You can even pay someone to design, build, and install the entire system for you, but more information on that later.
An RV solar system will make the time you spend in your RV so much more enjoyable.  Whether you're a weekend warrior or a fulltimer, there is a unique RV solar solution for you.
I hope that I can help you through the process, which can be a little overwhelming. It can also be a lot of fun.  You should know that besides this website, there are numerous other places on the internet to find good and accurate information about RV solar solutions.  Our Trusted Resources page has links for some other resources.
Where Do You Begin?
To get the best solar system that meets your needs, you need to answer A LOT of questions.  That's true whether you hire a professional or you do the design and installation yourself.  The design of your solar system should be based on these answers.   Just know that these questions are intended to help you install an RV solar system that best meets your needs and can help make the process that much more enjoyable as you progress.
Below I've outlined 20 of the most important questions to answer BEFORE installing your RV solar system.  There are many more than 20 questions that need to be answered. Your system design and the equipment you buy will be affected by these answers, and everyone's answers should be based on their individual needs.  There isn't one or even a dozen RV solar system designs that will meet everyone's needs.  I will discuss and link to each of these questions in further detail in subsequent posts.
RV Solar 20 Questions
Do you want to hire a professional for the design and installation of your solar system or do-it-yourself?
What type of RVer are you?

Are you a full-timer or the occasional weekend warrior?
Where do you RV?  Desert or forest?  Up north or down south?
Are you a boondocker (aka dry or off-grid camper)?
Do you stay in a new RV park every week?
Do you stay in one location for an entire season or even longer?

What is your expected budget?
How much power do you need?
What do you want to run on your solar?
How much power do you need to store?
What solar equipment do you need?
Where and how are you going to purchase the solar equipment?
Are you going to pay upfront or finance your purchases, and are there any tax benefits?
How many and what size solar panels should and can you use? (dimensions, voltage, and wattage)
How many and what size batteries should you use? (voltage and amp-hours)

What type of solar panels should you use?

Monocrystalline
Polycrystalline
Flexible or Thin Film

How do you mount solar panels, and should they be tilted?
Is your RV prewired for solar, and is that sufficient?
Where and how will you secure your batteries?
What battery type works best for you?

Lead Acid Batteries
Absorbent Glass Mat (AGM) Batteries
Lithium Batteries

Should batteries and solar panels be wired in Series or Parallel?
Will you build your system all-at-once or over time?
Do you want to connect a generator?
Are you going to use shore power to charge your batteries?
Conclusion
You are probably saying, "OMG, that's a lot to think about!"  Yes, it is, but I'm going to help simplify the process for you and help you find the answers you need.
As you get started in this process, the first thing you need to consider is how knowledgeable are you about electricity and electrical design?  If you're not knowledgeable about them, then your answer to the first question above, "Do you want to hire a professional for the design and installation of your solar system or do-it-yourself?" should be fairly straightforward: I'm going to hire a professional.
I hope that I can help you along in this process.  I will try my best to publish one or more articles a week and answer as many questions as possible.